Posted On
December 27, 2022
by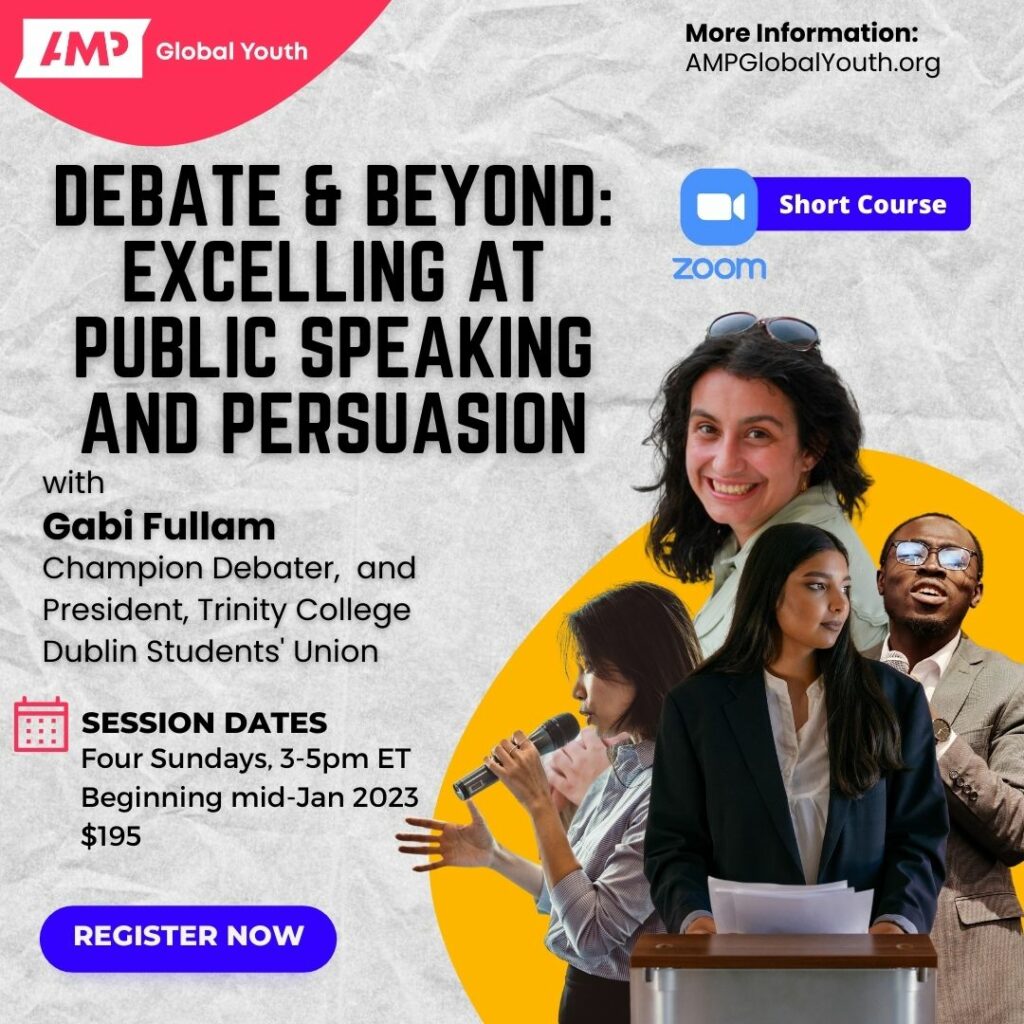 Join us in January for this exciting, intensive, and immediately-useful short course with AMP trainer and master debater Gabi! 
Sessions for High School and College Students.
Sundays 3-5pm ET, from Jan 15 – Feb 5, 2023.
Virtual. $195.

What are the most effective ways to win a debate or wow people when you speak in public? How can you improve your ability to persuade others? Understanding your purpose and your audience is the key to effective speechwriting and public speaking. This 4-part workshop will provide you with a comprehensive understanding of public speaking, argumentation, and competitive debate, including:
The Basics of Public Speaking, including speaking from the gut, ad lib, basic diction, and managing nerves. Speechwriting
Introduction to Logic and Self-Advocacy
Winning Competitive Debate. What makes an effective argument, including analyzing arguments, effective forms of rebuttal, basic format -types of argument and types of debate.
Applying these tools to other areas of your life and career, including healthcare, education, and policy-making.
Exploring what it means to speak with conviction, and truly speak truth to power. Debates have winners and they have losers. You get allocated points on a speaker scale and people are given, the real world is much more complex – to the point of illustrating debating as a pointless game, why do we do debate, how does it become useful.
We will meet on Zoom once/week, for 2.5 hours on Sunday afternoon (eastern time).
Meet your trainer! Gabrielle Fullam has been a finalist in over 30 European and Worldwide debate competitions, including winning the Uhuru Worlds Debating Championship and the Irish Times Debating Competition, one of the most prestigious debating competitions in the world.
How to apply: Click here to learn more and apply, and contact us with questions at: GlobalScholar@AMPGlobalYouth.org.